Haffenreffer Private Stock
Description & Information:
No Description Yet!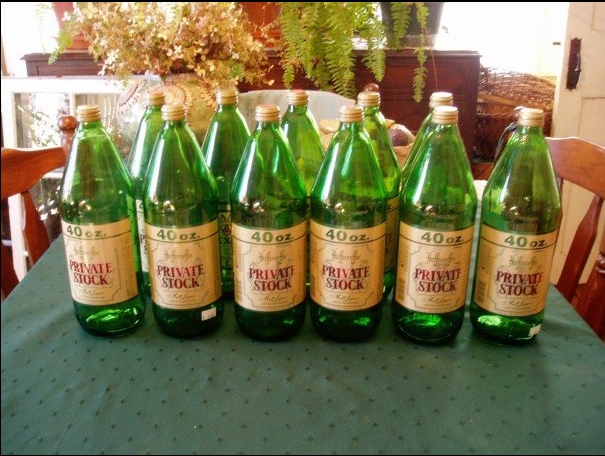 Reviews
James Brooks wrote on Sunday 18 August 2019:
I would like to buy some Private Stock beer
Karen Rivera wrote on Friday 9 August 2019:
OMG I used to drink this beer back in the 80's-90's I would LOVE to know if ya'll still make it, IT was the BEST EVER!!
JEROME ANDERSON wrote on Wednesday 10 July 2019:
My wife loved it can't find it anywhere do you still make it
Doris Mcknight wrote on Friday 5 July 2019:
Best beer I ever tasted, no after taste smooth soft,where can I fine it in Richardson,Tx?
Jackie Buford wrote on Monday 1 July 2019:
I really don't like beer but this beer or ( malt liquor ) has a different taste to it and it is the only beer that I will ever drink. So I was wondering where can I find it in Nashville TN or ,can it be shipped or ,can it be purchased online? My last time being able to purchase this beer was the late 90's so can you please return it to the Nashville area. The only beer that doesn't really have that beer taste. Thank you
Brew Connoisseur wrote on Monday 1 July 2019:
The only Brew that sticks in my mind from my youth...smooth and refreshing.
Jim McKenzie wrote on Monday 25 March 2019:
I agree with the others: one of the best beers (malt liquors) ever brewed, especially on the rocks! I really hope they bring this back.
Willie Webster wrote on Monday 9 April 2018:
Private Stock best. Ever bring it back or tell me where I can purchase it
Wiley wrote on Monday 5 March 2018:
Why Why Why did thy stop making this beer what did we ever do to be treated this way??????/
K.BREEZE wrote on Thursday 21 December 2017:
Best Beer Ever Im in North Carolina PLEASE BRING IT BACK does anyone know where to buy this or ship it?
Lionel cooper wrote on Monday 11 December 2017:
this beer is dam good so where can I buy this beer or have it ship to me
Horace pjtts wrote on Sunday 29 October 2017:
Somebody please bring Private Stock back that was a good beer ahead of its time
Shirley Ann Parker wrote on Thursday 17 August 2017:
The best tasting beer I have ever drunk, before they discontinue this in Miami, I have drunk them for over 20 years, please bring them back, if i find one today i would be in heaven. I need this beer back in my life.
Sheryl Bruno wrote on Sunday 16 July 2017:
The best beer stateside. Can no longer find it. Hoping to find it or at the very least, if it is still being brewed. I hope it is.
Robert Burt wrote on Monday 3 July 2017:
Absolutely, the best beer on the market. As a Marine, a bunch of us (SNCO's) would set around after work at Camp LeJuene, and relax with a nice cold Private stock beer. I look for it in every store I go in. Please bring it back.
DC Lewis wrote on Thursday 22 June 2017:
The best beer ever can't find it anymore please tell me how to get it
Adrian Groves wrote on Thursday 11 May 2017:
Need these in my life where can I purchase?
Ronald Gaskins wrote on Friday 14 April 2017:
Absolutely the best beer in my life please tell me where I can get it
IVAN ROSA wrote on Wednesday 15 March 2017:
Were to buy this beer in orlando florida i love this beer one off the best ever,
Karen Pinckney wrote on Friday 9 December 2016:
I love this beer and I would like you all to bring it back please where can I buy it or can you ship it to me I live in Washington State
Ed wrote on Thursday 4 September 2014:
The only beer I will drink. There is no place to buy it where I am in the panhandle of Florida. So I don't drink beer any more. The Best!
Write your review or opinion about Haffenreffer Private Stock:
Latest news
Family Fun: Labor Day fireworks and beer fests
---
A list of family-friendly events in the Houston area.
Oldest evidence of beer found in Iraq
---
Archaeologists have found traces of beer in Iraq, dating back 2,500 years to ancient Mesopotamia and the Babylonian Empire. While texts from those forgotten days speak of...
read more
[Graphic News] South Korean beer exports to China surge
---
 South Korea's beer exports to China more than doubled in 2017 from the previous year, but exports of other alcohol drop
From Germany to Korea, love for beer continues
---
Grand Hilton Seoul is gearing up for its annual beer festival, Oktoberfest, bringing Germany's renowned beer festival to
Pot Topics: Beer maker invests billions in cannabis; Elon Musk slams weed use
---
Giant beer company invests more money in cannabis; Tesla's Elon Musk has some thoughts on pot use.
Failed loading XML failed to load external entity "http://newswits.com/rss/beer.xml"