Windhoek Export Lager
Description & Information:
No Description Yet!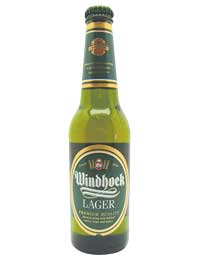 Reviews
diny wrote on Tuesday 22 October 2019:
To take Windhoek to SA you'll need a car...
Riba wrote on Saturday 1 June 2019:
What will it take to bring windhoek export back to SA?
Riba wrote on Saturday 1 June 2019:
What will it take to bring windhoek export back to SA?
R B MEYER wrote on Tuesday 1 August 2017:
Best lager I ever enjoyed since 1981. Wich I could source ot in Port Elizabeth
Thabo Mokone wrote on Wednesday 13 July 2016:
I enjoyed Windhoek export while i was still in Rusterburg àrea. This was giving me a sense while I my never.
When are you bringing it back to South Àfrica. I will pay for it again
BRYNLEY wrote on Sunday 8 March 2015:
Bring it back, as a barman years ago, I gave up the Castle lite and Amstel for Windoek Export. This was one of the best beers on the market at the time. I will pay mega bucks (even if shipment is required) to aquire the brand.
Duke wrote on Wednesday 9 January 2013:
Why was this beer discontinued in SA? It was one of the best beer that was ever produced by Windhoek Breweries.
Promise wrote on Saturday 20 October 2012:
I was so disappointed when this beer was discontinued in South Africa because it was my favourite
Write your review or opinion about Windhoek Export Lager:
Latest news
Free beer give-away
---
Anheuser-Busch is to give away free beer when the U.S. hits Biden's July 4 vaccination goal. Anheuser-Busch, the country's leading brewer, today announced a national...
read more
Corona Beer to Halt Production
---
The suspension was announced days after the Mexican government ordered nonessential businesses to close. Corona beer has become a temporary victim of the...
read more
Johnny Walker pours whisky in paper bottles...
---
Johnnie Walker, the whisky which traces its roots back 200 years, will soon be available in paper bottles. Diageo, the drinks giant that owns the brand, said it plans to...
read more
Danish Carlsberg wants to sell beer in paper bottles
---
Carlsberg is getting closer to its goal of selling beer in paper bottles. The Danish beer company revealed two new recyclable prototypes of the sustainably-sourced wood...
read more
Tennents investing 14m in green
---
Scottish drinks giant Tennent's has said it plans to invest £14m in environmental initiatives. From next Spring, cans of the lager - made at the Wellpark brewery in...
read more